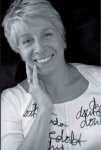 Designer, interior architect, Roman. Giovanna Talocci is an artist who is always innovative thanks to her natural curiosity and study of her surroundings, which brings her into contact with new and original techniques and materials.
Her versatility has allowed her to develop designs for prestigious companies in various sectors – ranging from saunas to upholstered furniture, lighting and bathroom fittings.
Various cultural and trade fair events carry the signature of Giovanna Talocci, who not only hosts conferences and seminars on the world of design in Italy and abroad, but also enjoys hosting TV programmes on design in her 'free time'.
Giovanna Talocci teaches design at the LUDI, on the Industrial Design Degree course at La Sapienza University in Rome, the Master's section in the European Design Institute in Rome, and at the Istituto QUASAR.
She has been a member of the ADI (Industrial Design Association) from 1979, and has sat on the Executive Committee since 2004.
She is a member of the Italian Design Council, which was set up in 2007 by the Italian Ministry of Cultural Heritage.
Giovanna Talocci has a relation with: Teuco Guzzini, Effegibi, Foppapedretti, Fantini Rubinetterie, Poltrona Frau, Provex Industrie, Fratelli Guzzini, Fornara e Maulini, Luceplan, Rapsel, Viasat, Ferrarelle, San Lorenzo, Domo, Valpra.